Terenure Sports Club tennis section boasts an established Tennis club with members of all ages and standards. We are always open for new members with coaching sessions, round robin tournaments, social tennis and internal tournaments. As well as unlimited use of the courts there is plenty of activity for all members.
Junior Tennis Academy
The Terenure Sports Club Junior Tennis Academy 2014
New Weekly Schedule for Juniors starting in September 2018
Lesson times for 4-15 year olds.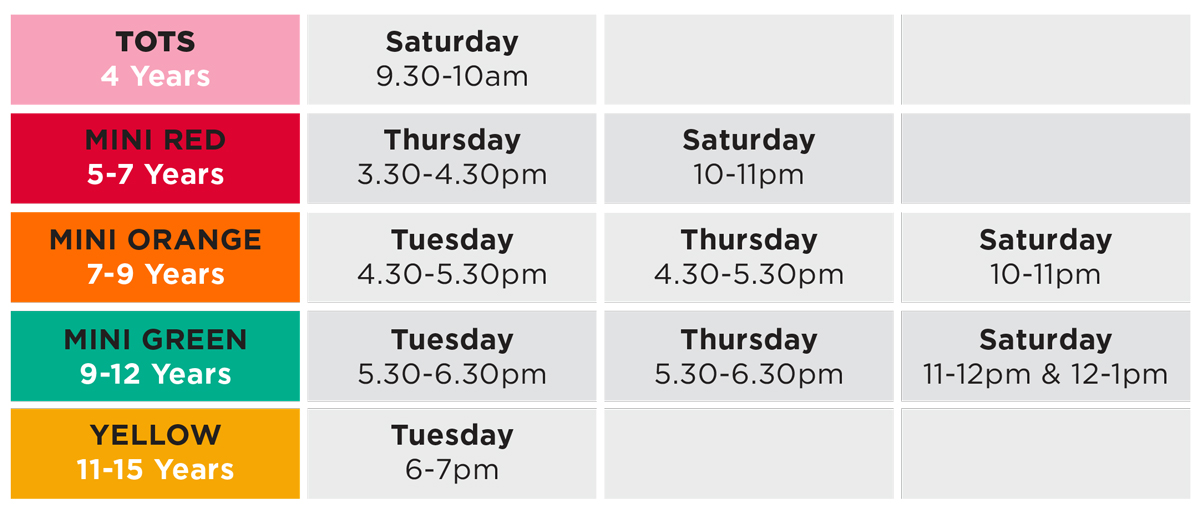 The vision for the adult programme for 2018-19 is simple – to get people playing, enjoying tennis and competing at all levels. The plans for the upcoming year are exciting and include a set schedule of classes, social evenings, tournaments, league teams and exchanges with other clubs.
Social tennis nights take place every Thursday throughout the year from 7.30-9.30pm. All levels welcome, from beginners to experienced players.
Lessons
Aerobic Tennis – Please contact us for information on the times for cardio tennis
This class is primarily a workout but has tennis incorporated into the hour and half so it is painless and you don't even notice yourself working out! Come down and run around, hit a few balls and feel great afterwards!
Pay as you go – €12 per class
Wednesday 7.30-9pm Adult Tennis – drills.
This class will focus on repetition to improve specific areas of your game both technically and to improve consistency. Each week with have a different theme!
There will be another 6 week course starting on Wednesday evenings from October 26th (2018) running for 6 weeks at a cost of €85.
Friday 7.30-9pm Adult Tennis – match play, tactics and mental game.
This class will be primarily focused on point play, point construction, understanding how to make tactical decisions and perhaps most importantly the mental side of the game. Come down and learn about how to improve your mental game with Rachael who is currently finishing her PhD in Psychology and enjoy a few social drinks in the bar afterwards!
Please contact us for information on the times for these lessons.
For more information
Email terenuretennisclub@gmail.com
Rachael Dillon – Level 1 Tennis Ireland Coach
Rachael was born in Dublin and has been playing tennis since the age of 4! At a young age she moved to France and maintained the top spot in the Irish tennis rankings in all junior age groups. She later went on to gain experience at the international senior level and earned a world ranking in the 600's for both singles and doubles. Rachael has been selected to play for Ireland in Federation cup from 2005-2014 and competed in Estonia with the Irish team in Feb '14. Rachael has been active in the national tournaments for the past number of years winning the Irish close Donnybrook and Lansdowne tournaments in the summer of '13. She has been coaching all levels and standards of tennis for the past 6 years both in Ireland and abroad.
Federico Raffo – Level 1 ITF coach and Level 1 Tennis Ireland Coach
Federico was born in Uruguay and has been playing tennis since the age of 3. He was Uruguayan junior champion under 12, 14, 16 and 18. He was also Uruguayan national senior champion. Federico traveled and competed in junior grand slams and was ranked in the ITF. Federico has also competed on the international doubles circuit and pro tour in South America. Federico has 13 years coaching experience and is currently coaching a lot of the top juniors and seniors in Irish tennis.
Members of the tennis section can use the courts whenever they find availability and the use is unlimited. The priority list for court usage is :
Adult Dublin Lawn Tennis League Matches
Junior & Adult Lessons
Internal Club Leagues
Paid up tennis section members
– Courts are closed for Social Tennis Night every Thursday evening from 7.30pm throughout the year
(although everyone interested are more than welcome to join in)
– Courts are closed during Summer & Easter Camps (while children are on the premises)